Zomertruffels bestellen
Een zomertruffel (
Tuber aestivum
) is een zwam die onder kalkhoudende grond op de wortels van eiken, hazelaars, dennen en wilgen groeit. De truffel is een vrij schaarse delicatesse en wordt veelal gebruikt bij de duurdere eetgelegenheden. Het vruchtlichaam in ongeveer 2-6 cm lang en is grijsbruin tot zwart. Van binnen is de zomertruffel grijsbruinviolet en van buiten enigszins wratachtig.
De zomertruffel heeft restricties aan de tijd dat er naar mag worden gezocht, nl. van 1 mei tot 1 september.
De zomertruffel heeft een vrij lichte smaak. Om deze smaak te conserveren dien je de truffel pas op het laatste moment aan de maaltijd toe te voegen.
De gerechten waar de zomertruffel bij kan worden gebruikt zijn zomerse gerechten zoals risotto, roerei, aardappelpuree, ravioli, roomkaas of pasta. Vermijd hierbij sterke smaken in het gerecht zoals ui, prei of tomaat.
Onze truffels worden vakkundig verpakt en gekoeld verzonden. De levertijd is 3 dagen.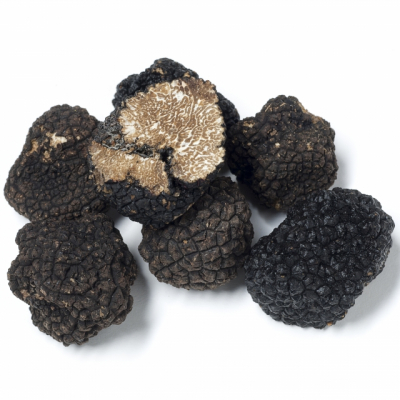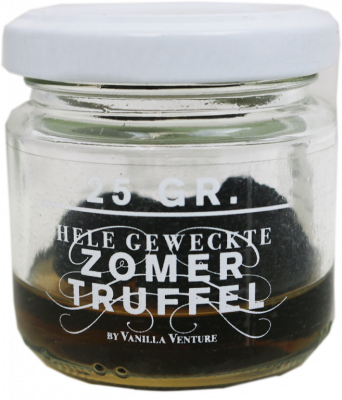 Klik hier voor ons assortiment van diverse truffels
Blijf op de hoogte
Wilt u de nieuwsbrief van Vanilla Venture met aanbiedingen en marktnieuws ontvangen? Geef u dan hier op.
VOORWAARDEN
Download de algemene leveringsvoorwaarden van Vanilla Venture.